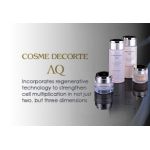 COSME DECORTE integrated the critical outcomes from skin regenerative R&D into the development of its premier Meliority line.To reconstruct the quality of your skin, as if it has been reborn!
Meliority products are fortified with more than 30 carefully selected ingredients to answer every skin ailment.Incorporating regenerative technology to strengthen cell multiplication in not just two, but three dimensions, so cell multiply both horizontally and vertically, to give you strong healthy skin.
Meliority targets skin regeneration, skin rejuvenation, moisture retention, promotion of blood circulation, enhancement of metabolism, cell invigoration & multiplication, activation of female hormones, emollient effect, anti-oxidant effect, healing of DNA damage, anti-inflammation, prevention of skin irritation, wrinkle reduction, whitening , softening of rough skin.