Product highlights
• Containing "Moisture Lift Oil", it gives lips a glow by providing long-lasting luxurious moisture.
• The "Melty-feel" formula ensures Rouge glides on and fits effortlessly while moisturizing lips, giving it a plump-up effect and glossy colour.
• Rouge colours have rich depth and are incredibly pigmented; giving off beautiful colours that stays on for long hours.
• Containing 'Concealing Powder', the Rouge conceals longitude wrinkles and dark parts of the lips with a fine finish.
The composition of Gold Colloid Powder
Made from the nano-level powder of solid gold, it overlaps with other colours giving the depth, translucency, and colour of the Gold Colloid Powder. It sparkles with high-quality effect and delicate glossiness.
Active ingredients
• White birch water (moisture) • Chimaphila umbellate leaf extract (moisture)
• Phospholipids (moisture) • Rose hip oil (emollient)
• Safflower oil (emollient) • Safflower extract (moisture)
• Lithospermum Erythrorhizon extract (emollient)
• Shea butter (emollient) • Tri-glycerides (emollient)
In 15 colours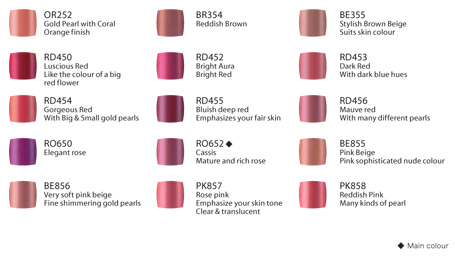 Push out about 1cm of the Rouge from the tube to use