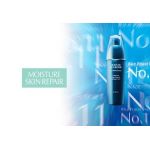 Experience your skin's superior moisture retention ability with light-as-water essence, harnessing Rice Power Extract No. 11

Star Ingredient: Rice Power Extract ® No. 11

It is a rich but well-balanced concentration of amino acids, peptides and sugars, which has been clinically proven to enhance skin's moisture retention ability.

Not only does Rice Power Extract No.11 supply moisture to the skin, it also helps your skin hydrate by itself, thus dramatically improving the skin's barrier function. Improving the skin's moisture retention ability can therefore be said to improve the innate nature of your skin.

Research has confirmed this ingredient's ability to enhance the moisture retention ability of even healthy skin!

Rice Power Extract No.11 has pioneered a revolution change in the long history of skincare in Japan.

It is the first quasi-medicinal cosmetic product to be certified for a new efficacy – the proven enhancement of the skin's ability to retain moisture – under Japan's Drugs, Cosmetics & Medical Instruments Law.

This marks the very first time that Japan's stringent drug legislation has included a new efficacy in the field of medical cosmetics since the law's establishment in 1960!