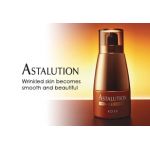 See & feel the results of this orange-colored serum.



Star Ingredient: Astaxanthin



Astaxanthin - a carotenoid - is a red pigment occurring naturally in a wide variety of living organisms. Shell fish, salmon, as well as red seaweed, etc have this pigment in their bodies to protect themselves against the negative impact of UV-rays.

It possesses 100 - 500 the anti-oxidant prowess of Vitamin E & is 150 times more powerful then cell-energizer CoQ10 – this powerful biological antioxidant exhibits strong free-radical scavenging activity and protects against lipid peroxidation and oxidative damage of cell membranes, cells, and tissues.

In recent years, expectations are growing for its anti-inflammatory effect as well as its ability to prevent lifestyle-related diseases such as cataract and arteriosclerosis.